Today, players who participated in the FIFA23 closed beta leaked the ratings of many FIFA23 players. It should be noted that this is the data of the internal test, and the EA may change in the end, but it should be more accurate in general.
FIFA23 players TOP50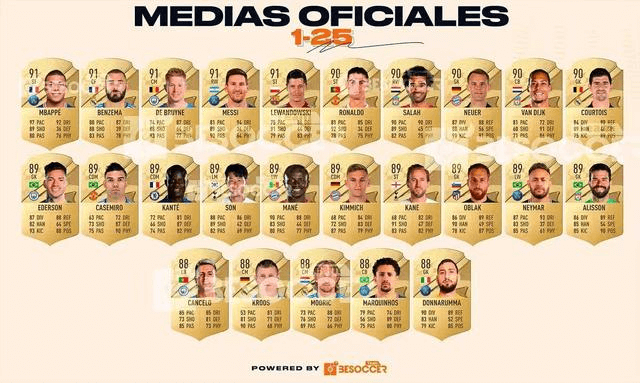 The top 10 players in FIFA 23 are:

Mbappe 91ST
Benzema 91CF
De Bruyne 91CM
Messi 91RW
Lewandowski 91ST
Ronaldo 90ST
Salah 90RW
Neuer 90GK
Van Dijk 90CB
Courtois 90GK

FIFA23 Premier League players TOP50
The following are the top 50 players in the FIFA23 Premier League overall review
FIFA23 La Liga player TOP50
Serie A and Ligue 1 have not yet had any data leaks.
FIFA23 Club Player Overall Rating
Manchester City F.C.
Liverpool F.C.
Manchester United F.C.
Real Madrid CF
FC Barcelona
Juventus F.C.
FIFA23 hero card value leaked
FIFA22 Latest SBC
EA announced 2 new SBCs today: 87+ players choose 1 out of 4 and 95+ variant card players choose 1 out of 4, costing 40,000 and 120,000 respectively, and expires in 6 days.
95+ metamorfo card player card pool:
FIFA 22 Latest Player Leaks
FIFA23 e-sports platform PS5 exclusive
EA FIFA esports made an announcement today that
FIFA23 EA official e-sports platform will be exclusive to PS5.
Players will be able to use rental players for online qualifying matches.
If you mainly play FIFA, it is best to choose the PS5 platform.